You will discover the charming Old Town which has been declared a World Cultural Heritage Site in 1987. During the walking tour you will have a look at the historic alleyways and courtyards, which are remnants of late 15th century. You will see the red brick gothic world-famous Holsten Gate, the seven spires, the Hospital of the Holy Ghost dating back to 1280, the historic Town Hall, the market place and St. Mary's Church - home to the world's largest mechanical organ.

Following you will have a look at the Buddenbrook House, former home of the Lubeck-born authors Heinrich and Thomas Mann. The St Jacobi Church, the church of the seamen und fishermen. The St Ann museum has a wounderfull collection of altar pieces from Lübeck und surroundings. Make sure not to miss the Marzipan-exhibition in the Café Niederegger.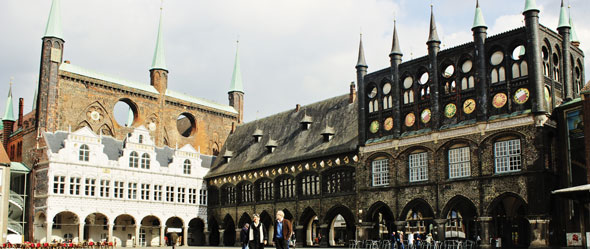 If you stay in Lübeck for a few day
I make you discover other hanseatic cities: Hamburg, Bremen, Lüneburg, Rostock, Wismar, Stralsund but also Schwerin, the Baltic coast, the surroundings of Lübeck, Eutin, the city of the roses and the composer Carl Maria von Weber, but also the old castles, wonderful lakes and unspoiled nature.

To book your guided tour:
Please make your reservation by telephone (+49 (0)176. 522 173 54)
by e-mail info@hambourg-decouverte.de

Your e-mail should include the following information:
Your complete contact details - Choice and the date of the tour - Number of participants