About us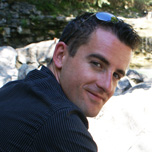 The website www.the-guided-tours.com provides information about guided tours organized by competent and friendly guides. Here you can find and book a guide for you next visit to a city in Europe. Finding a tour guide, made easy!

The website www.the-guided-tours.com is a project of LatLon-Europe, an inscribed small company based in Berlin, Germany. The site is owned by Pascal Jeanrenaud, who is responsible for the contents.

Although just one person is behind this website, one can truly say "About us", as this offer would not be possible without the cooperation with local tour guides who have contributed to the creation and success of the site. The same can be said for the website www.latlon-guide.com, also run by Pascal Jeanrenaud, which presents various cities in Germany and Switzerland. There you will find all kinds of useful information for tourists (monuments, history, museums, events, hotels, etc.) to help you when planning your travel.

Pascal Jeanrenaud (photo), Swiss from Neuchâtel, has been working as a freelance tour guide in Berlin since 2003. He has specialized in private guide service, focusing on small groups like couples, families or friends. The success of this concept, which holds a lot of advantages for visitors (see "What we offer"), made him create the LatLon-Europe site and now, in August 2011, the page on which you are now. With www.the-guided-tours.com finding tour guides or different tour offers in your language in many European cities is made easy.

We hope that booking a guided tour soon will be as natural as booking a hotel room. If you hire a private guide, you will not only save time and nerves. It leaves you free to enjoy every minute of your vacation.

Click here for our contact details.

What we offer

For whom are the guided tours advertised on this site?


For couples, families and small groups: Themed guided tours or private guide service and tailor-made tours - a tour guide just for you alone. When touring the city, the guide will share his/her great historical knowledge with you in an entertaining way. But moreover he/she will provide practical details and information about what's currently going on in the city!



For travel agencies, clubs & associations, companies:
A tour guide will be a competent local partner for the organization of tour programs for one day or for the whole length of your stay.

What services do tour guides offer?
Private guided tours (a tour guide for you only) have a number of benefits:



Guided tours: Visit the page of the city of your choice and pick out a guided tour. .


Useful information: The guide will give you practical advice and valuable recommendations (museums, events, restaurants, etc.).


Finding your way around the city: If you book a guided tour for the first day of your stay, you will get a double benefit, as the guide will show you around and this will help you to find your own way around town and feel much more relaxed for the rest of your stay.


Assistance in preparing your stay: Guides can assist you in the planning of your vacation, acting as your adviser. They can support you as partners if you are a travel agent. If the word "incoming" is mentioned on the guide's (or guide service agency's) website, they can also act as an agent and make reservations for you.

How to book your guided tour?
When you use our website, it's really so simple. You just get in contact with the guide directly, without any intermediary!



Step 1: Go on the site of the city of your choice and pick out a guided tour.


Step 2: Send your booking request directly to the guide (not via the owners of this site - the guides are independent from us).


Step 3: The guide will contact you (by eMail or phone) to make you an offer for a guided tour and arrange the details.


Step 4: Your booking will only become binding after that contact and your final confirmation.


And finally: Enjoy a wonderful guided tour which you will pay directly to the guide.


Who are the tour guides presented on this website?
All guided presented here are professional freelance tour guides who have several years of experience in the job and in their city.
We choose our guides according to the following criteria:



Competence - The guides must have completed a training, have good working experience and special knowledge.


Efficiency - They will speedily answer to your requests.


Flexibility - Your guide will adapt to your needs and interests, adjusting also to the rhythm and age of participants (e. g. children).


Sympathy - A good guide will do much more than just impart knowledge. He/she is a passionate ambassador of the city and will attend to his/her guests at any moment, so that the guided tour will be one of the highlights of your stay.

Guides that meet these standards can advertise their services on this website, normally on the basis of a two-year contract. The cost covers the expenses for the creation and maintenance of the site. As quality assurance is most important to us, the price is modest.


New tour guides?


Dear visitors - In order to expand our choice of guides, we would appreciate if you could recommend us new tour guides (just mail us their contact details). Thank you.



Dear guides - Please send us your request for inclusion by eMail together with a brief CV (stating guide training, years of experience, your specialties, city or cities where you guide and working languages). Information and registration here (PDF) in French or German.


Should you have any queries, please don't hesitate to contact us. We wish you a wonderful vacation, with an inspiring guided tour. Feel free to write if you have any remarks or ideas concerning this site, or if you just want to share a great experience you had with one of the guides presented here.

You can also help us by recommending the-guided-tours.com to your friends.